The Princess and the Frog toys are going to be popular with little princesses this Christmas. The latest Disney princess movie premieres in theaters this Friday. I have to say I think the toys are beautiful, especially the Princess Tiana dolls
.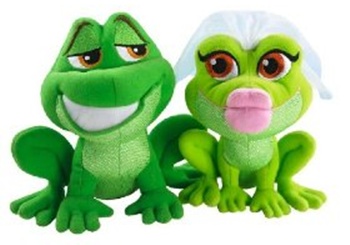 I think my favorite is the Disney The Princess and The Frog Kissing Frogs Giftset
, aren't they simply adorable?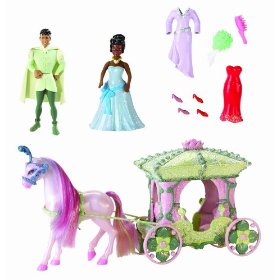 The Disney Princess and The Frog Deluxe Gift Set
includes a Princess Tiana doll and the handsome Prince Naveen doll, a charming horse and glittery Mardi Gras carriage, dress-up fashions and accessories. All set in a carry case that resembles Tiana's Restaurant from the movie!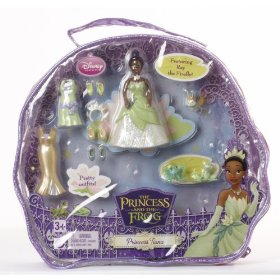 Disney Princess Tiana Sparkle Bag
playset includes the lovely Tiana doll, dressed in a beautiful petal green gown with two extra fashions, accompanied by two playful frogs and jazzy Louis the Alligator figures.
Related Links: