The Bakugan Maxus Dragonoid combines 7 Bakugan into one to form the ultimate Bakugan monster. Bakugan 7 in 1 Maxus Dragonoid
includes 6 different traps, including Grakas Hound, Dark Hound, Grafias, Brachium, Spitarm, SpyderFencer & Neo Dragono. These Bakugan can be used individually in a game, or all together.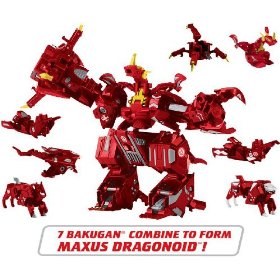 Dragonoid is one of the most powerful Bakugan yet. If you have a Bakugan fan on your Christmas list, they'll definitely have this one on their wish list this year.
Another Bakugan combined favorite is Maxus Helios
. Another ultimate Bakugan monster that can be used to battle combined, or as 7 individual Bakugan.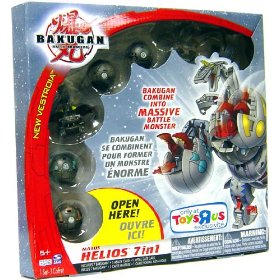 If you have a Transformer's fan on your gift list who loves Bakugan then combined Bakugan
provides the best of both worlds with these Bakugan that can be transformed.
Buy Bakugan 7 in 1 Maxus Dragonoid

Buy Bakugan Maxus Helios
More Bakugan: