This spring and summer Cepia has some new toys from their popular toy lines Zhu Zhu, Xia Xia, and DaGeBar toy lines hitting stores. Check out the details!
ZhuZhu Pets® Kittens and Puppies
A truce has been made in the well-known battle of dogs vs. cats! All the Zhu-natics out there can now enjoy the best of both worlds with ZhuZhu Pets® Kittens and Puppies. Brand new ZhuZhu Pets® Kittens are sweet, loveable, cuddly and just as collectable as the original ZhuZhu Pets®. Each character has its own name, biography, birthday and special collector's code. Both ZhuZhu Pets® Kittens and Puppies come in a variety of wacky colors, make silly sounds and move about. Just press their backs and watch them go. Unpredictable, kids never know what they're going to do or where they're going to go next, creating hours of interactive and imaginative play.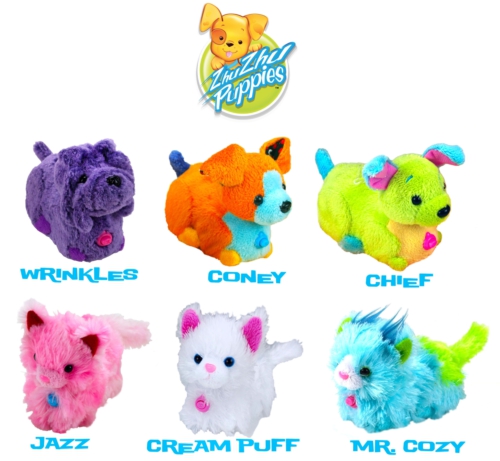 New Zhu's in the Puppies and Kittens Crew:
Jazz the Cat: Jazz's personality is just like her favorite musical genre – she's smooth, mellow and has a lot of spontaneous flare. Icon: Saxophone
Mr. Cozy the Cat: Mr. Cozy's favorite season is winter. When the weather drops, you can either find him out sledding or cuddled up to his owner with a warm mug of milk. Icon: Mittens
Wrinkles the Shar Pei Puppy: A neat and tidy pooch, Wrinkles makes her doggy bed every day, enjoys cleaning her kennel and keeps her chew toys spic and span. Icon: Iron
The new puppies and kittens will be hitting stores in the summer of 2012.
ZhuZhu Pets® Safari
ZhuZhu Pets® Safari is a great way for kids to enjoy the fun and fantasy of the jungle. They come in a variety of exotic characters from Wharton the elephant to Baako the zebra.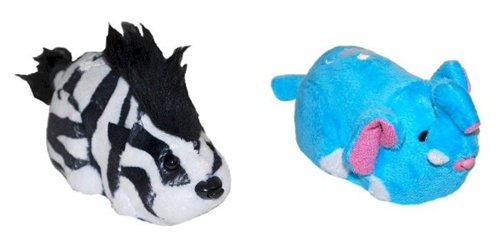 Like their ZhuZhu Pets® brothers and sisters, ZhuZhu Pets® Safari animals run about, making silly jungle noises. New ZhuZhu Pets® Safari Babies are also joining the adventure, adding a touch of sweetness to the wild kingdom. Their tiny size makes them a great collectable. Catch the Safari characters and babies having tons of fun on slides and swings on their connectable playsets.
You can find the new Safari Pets at Amazon here: Zhu Zhu Pet Safari
DaGeDar™
Nominated for "Boy Toy of the Year 2012" by the Toy Industry Association, DaGeDar™ is the ultimate game of speed, skill and friendly competition. With new elite characters, it is now the ultimate game of collecting. These limited edition racers have come from a far-off intergalactic region called Dimension 33 and are marked with a special "33." Players who obtain the "33" Dag racers are thought to receive a higher level of enlightenment. To play the game, kids race their DaGeDar™ ball characters through thrilling loops and turns in three different track sets. Whether it's racing against friends, collecting points or propelling their ball into the cup, the game, and rules, can change every time.
The "33" DaGeDar:
Fresh-Mon01001: Born with the mark of "33," Fresh-Mon has spent his short life, searching for answers and reasons as to why he was given such an honor at birth.
S.O.L02033: A mechanical lawgiver who bestows rulings on all judicial matters.
Diode-X9906116: After a severe sand corrosion, Diode X99 can't remember his function. If he falls into the wrong hands, it could spell disastrous results.
Sprat Horner06118: A futuristic time explorer, Sprat Horner found himself stranded in Dimension 33 and now must rely upon his wits and weaponry.
You can find the new DeGeDar at Amazon here: DaGeDar Toys
Xia-Xia™
The "must-have" toy from this past Christmas, Xia-Xia™ are robotic hermit crabs that give kids the pet they have always wanted without the mess. From a distant island where every day is Carnivale, Xia-Xia™ are crazy crustaceans, who love to dance and play all day long. What's Carnival without a costume?
Xia-Xia™ hermit crabs love to show off their shells for island festivities. Kids can choose between a variety of interchangeable shells with different patterns, styles and colors. With eight new shells to choose from, there are a lot fashions to be had. For an additional surprise, tiny kooky companions are hidden inside each shell, each with its own special name. Kids love to collect and trade Xia-Xia™ shells and their kooky friends!
You can find XiaXia here: Xia-Xia Toys
Most of the new Cepia toys are in stores now, or will be hitting stores this summer and are recommended for children 4 and up.