One of my favorite things to do during the holidays is to get together with friends and family and play some fun games. Scene It? games
are great for this. You can find out what everyone knows about their favorite TV Show or movie. One of the latest Scene It? games
is the Scene It? The Simpsons Deluxe Edition
.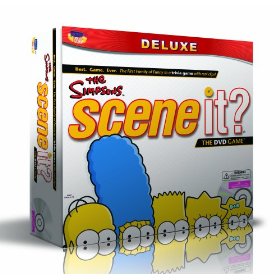 If you have a Simpson's fan on your Christmas list this year, this could be the ultimate gift. The Scene It? The Simpsons Deluxe Edition
includes:
Game DVD with Party Play Feature
Flextime® Game Board
4 Collectible Metal Tokens
175 Trivia Cards
16 Buzz Cards
1 Six-Sided Die
1 Eight-Sided Die
Instruction Sheet
It's hard to believe the Simpsons are celebrating their 20th year, and Bart's still sporting his youthful figure. This new deluxe edition helps commemorate this historical event. You can get together with friends and celebrate, while your testing your Simpson's trivia knowledge.
Scene It? The Simpsons Deluxe Edition
is for 2 or more players, ages 14 and up, and available at major retailers nationwide.