My son absolutely loved to build towers and then turn around and knock them down when he was a baby. When he knocked the tower down he would laugh his head off, then he'd want me to help him build it again two seconds later. He started with baby building blocks when he was barely a year old, and kept going from there. Some of my favorites are the Melissa and Doug building blocks.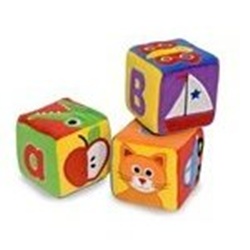 Melissa and Doug Soft Blocks
are perfect for babies and young toddlers who are working on their building skills. Because they're soft you don't have to worry about babies falling on them and hurting themselves. The soft blocks are also large enough that they won't pose a choking hazard.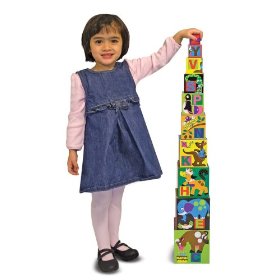 Melissa and Doug Stacking and Nesting Blocks
are some of my favorite first blocks for toddlers. They can be stacked up to build a tall tower, strung out along the ground, or nestled one inside the other for storage.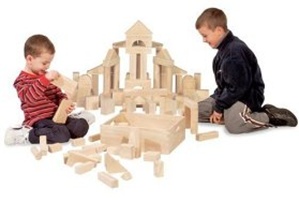 When they're good at building towers they can graduate to Melissa and Doug wood blocks
and start creating building masterpieces.
Whatever blocks you choose, double check to make sure they're age appropriate for your child before you let them play.