If you have a Thomas The Train fan in your family, check out these new Thomas & Friends: On-The-Go Packs
. Just in time for summer travel HIT Entertainment and Lionsgate has introduced this new set of 3 Thomas and Friends DVD's with a handy DVD carrying case that's convenient to take along everywhere.
The carrying case even has 9 additional spots to hold even more of your child's favorites for long trips, or just to store them all in one place.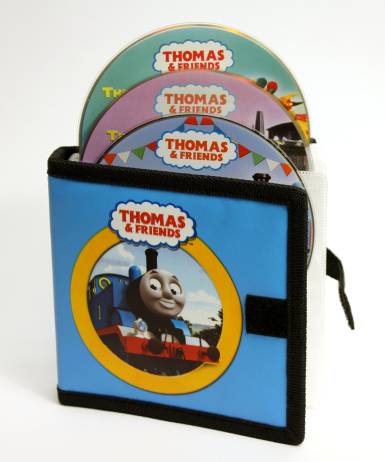 Here's a synopsis of the DVD's included in the On The Go Pack:
DVD #1 Hooray For Thomas:
Thomas wins a medal for saving the day, children get a fun ride on the tracks, Edward rescues a brass band, and more! Let the celebration begin!
Special Features:
Read-Along Story "The Great Race"
Sing-Along Song "The Red Balloon"
Bonus DVD Games
Language: English
Run Time: Approximately 35 minutes
DVD #2~Trust Thomas:
Take a journey to the magical Island of Sodor, where fun and adventure lie around every bend. Watch Toby as he trades in his branch line for a tightrope, and help the engines replant Henry's favorite forest after a devastating storm. Join your friend Thomas on what he says will be a fun and exciting trip – and like the title says, you can always "Trust Thomas."
Special Features:
Character Gallery
Sing-Along Song "Harold the Helicopter"
Bonus DVD Game "Sir Topham Hatt's Word Fun"
Language: English
Run Time: Approximately 40 minutes
DVD # 3~Thomas, Percy & The Dragon:
On the Island of Sodor even the bravest of engines have exciting challenges. Take Percy – he said that he's ready for anything! Help Thomas use the carnival Chinese Dragon to give Percy his greatest challenge yet.
DVD Special Features:
Read-Along Story "Thomas, Percy & The Dragon
Sing-Along "Every Cloud Has A Silver Lining"
Bonus DVD Game "Paint My Color"
Language: English
Run Time: Approximately 37 minutes
Order Thomas & Friends: On-The-Go Packs