My son was a huge Caillou fan when he was younger, but it was always a challenge to find Caillou toys for him so I thought I'd put together a Caillou gift guide to help others find Caillou toys.

The Caillou Laugh N Learn 12″ Talking Doll makes a great preschool companion. Your child can push Caillou's hands, feet or stomach hear him speak in English and French. He knows more than 30 different words and expressions, and he's ready to teach them to your child. Caillou's dressed for school in his blue jeans and red fleece jacket. This toy has small parts, so it's intended for children 3 and up.

The Caillou Discovery Game lets your preschooler embark on an adventure with Caillou. The game is great for teaching preschoolers how to play together, and it also teaches them their basic colors. They don't need to know how to read to enjoy this fun game.

Your child can visit the park with Caillou with the Caillou Tubes & Tunnels Game. Players roll the dice to navigate in and out of the tubes and tunnels. The game is great for teaching preschoolers how to count and play together with friends.

The Caillou Toddler Backpack is perfect for packing for the babysitters, or grandma's house. Your preschooler or toddler can pack their favorite toys or clothes and take Caillou along with them everywhere they go.

The Caillou The Builder Dress Me Plush Doll, is perfectly cuddly for nighttime hugging. His clothing can be removed with the exception of his hat and boots. By day Caillou the Builder can help your preschooler build and explore the world around him.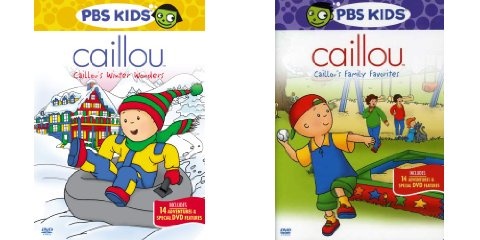 A Caillou DVD
would be the perfect gift for any Caillou fan. Then they can watch their favorite show anytime.
Related: