I have a fun Nintendo DS game for all you Jonas Brothers fans out there, Disney Jonas
for Ninendo DS and DSi will be released on November 10th.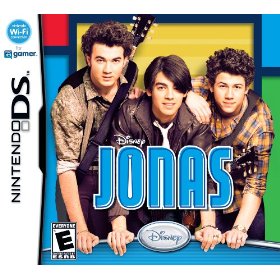 Have you ever wondered what it would be like to live the Jonas Brothers life? You can find out in this new Disney game. Check out how how everyday life collides with the pop star world in the new Jonas video game
for Nintendo DS.
You can be any one of the Jonas brothers. Players help the Jonas Brothers juggle school, friends, and their fans, and still have time for family and dinner, by striking the right cords and helping the Jonas brothers overcome obstacles in their way.
You can even outfit your Jonas Brother with stylish clothes for any event from school to a television appearance, or to rock out at one of 6 rock concerts.
I'm sure the new Disney Jonas
video game will be on every Jonas Brother fan's Christmas wish list this year!