One of the games at the top of my son's Christmas list this year is Mario & Luigi Bowser's Inside Story
for the Nintendo DS, or DSi. He's a big Mario fan, so each time a new game comes up it hits his wish list.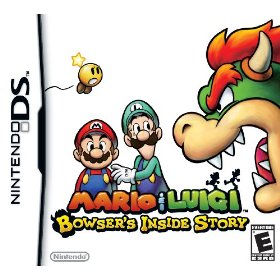 The game has two different story lines. In one story line players are helping Bowser stop a villian from taking over his castle. In the other story line Mario and Luigi are tiny microbes helping Bowser from the inside.
Players can switch from one story line to the other while they're playing the game, in both they are affecting Bowser's outcome.
I think Mario & Luigi Bowser's Inside Story
will top many Mario or DS game fan's Christmas lists this year.